OBSBOT UVC to HDMI Adapter
Superb 4K UVC to HDMI conversion

Plug and play

Low Latency

OBSBOT Remote Control support

Firmware Upgrade support
What's In the Box
1 * OBSBOT UVC to HDMI Adapter
1 * USB-C to USB-C Cable
Compatibility:OBSBOT Tiny (1080P Edition, 4K Edition), OBSBOT MEET (1080P Edition, 4K Edition) , OBSBOT Tail and other UVC webcams
Perfect and professional.
Its a realy good thing. The worth of many webcams and the one "the obsbot" is much higher than before.
Satisfacción Con el Producto
Cumple todas mis expectativas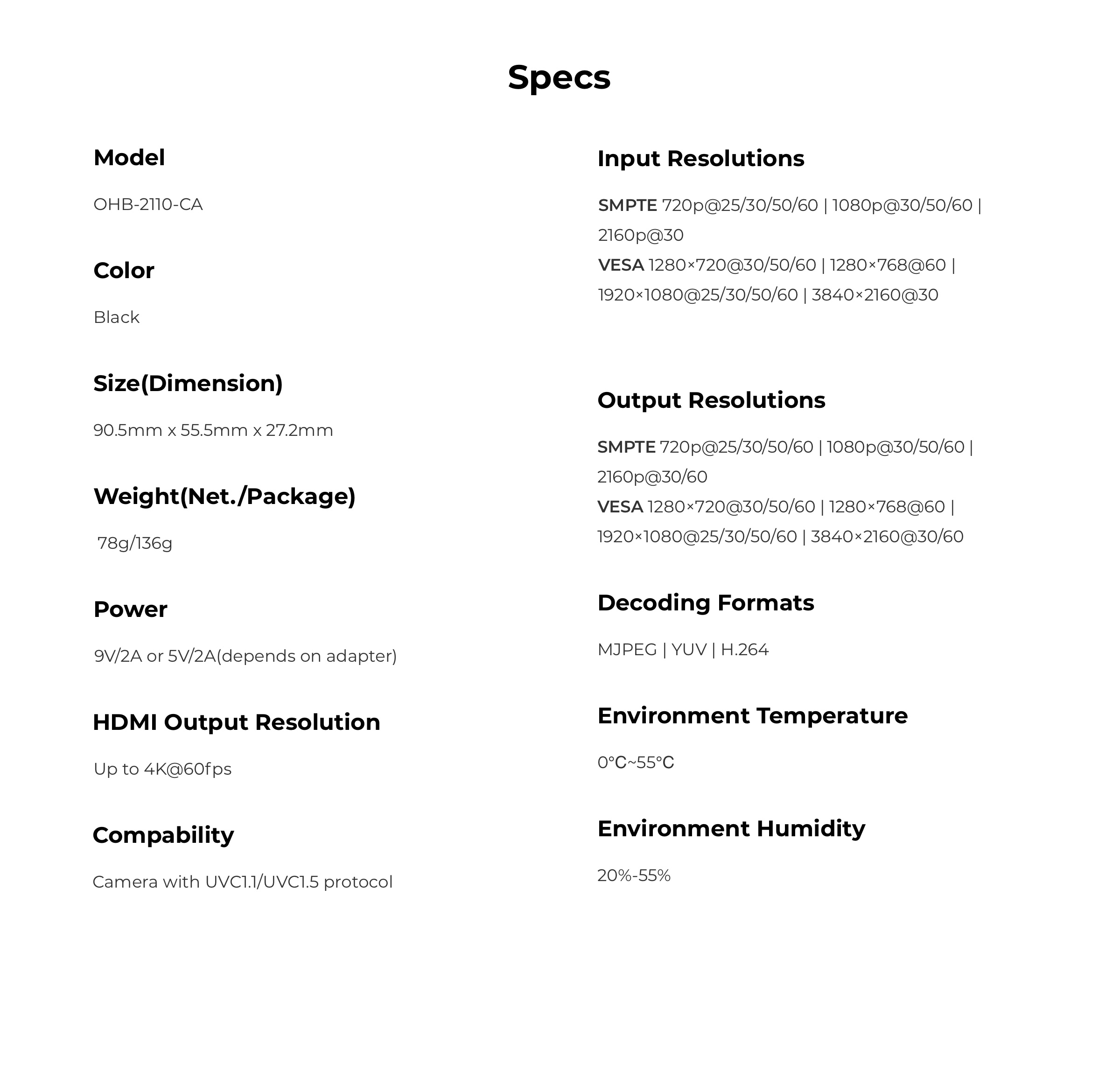 Before You Use

Please operate as shown in the following figure:
Step 1: Connecting Power Port with power supply.
Step 2: Connecting HDMI 2.0 Output Port with monitor via HDMI cable.
Step 3: Connecting USB-C Input Port with USB camera via USB-C cable.


*Note:
A. If necessary, you can plug in the OBSBOT remote control (Meet control and Tiny control) Receiver into the USB 2.0 port to control OBSBOT Tiny Series or OBSBOT Meet Series via remote control.
B. Power of the adapter is not less than:5V/2A/10W.
C. Do not use the USB port of the computer for the power supply.
D. If the UVC signal is 4K@30fps and the HDMI output to a 4K monitor, the output resolution will turn up to 4K@60fps to fit the real effect of the monitor.